REmatrix Player
Products > PLUGINS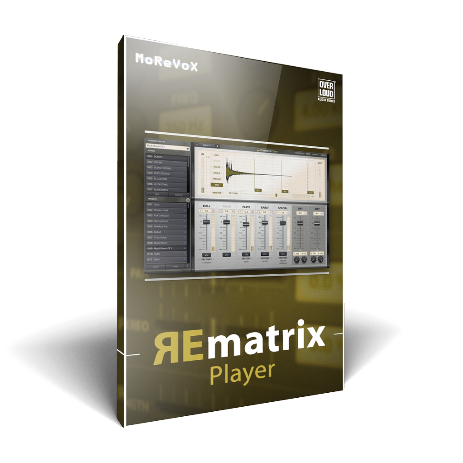 Free multilayer convolver





REmatrix Player is the free convolution reverb, based on award-winning REmatrix technology.
It allows to import any REmatrx library and enjoy the same tone as REmatrix with essential
editing capabilities. It is included for free in any REmatrix library.

REmatrix Player is the essential tool for engineers looking for:

- the most impressive reverb ever created by a plugin
- a streamlined workflow: go from the idea to the final tone in a few clicks
- a huge factory library created by one of the world-leading sound designers, MoReVoX,
specifically designed and supported by an extensive preset lista proprietary technology
to add liveliness and richness to the static nature of convolvers

Learn more about REmatrix

How to get REmatrix Player?

REmatrix Player is included for free in any REmatrix library.
When you purchase a REmatrix IR library, you will get your copy of REmatrix Player plugin.



MUSICTECH
INNOVATION AWARD
REmatrix is an incredibly intuitive plug-in that
can breathe life and detail into any instrument or track


REmatrix Player

REmatrix FULL

GLOBAL

Adjust 5 IR Level, Mute and Solo

YES

YES

Adjust Dry&Wet Levels, Mute and Solo

YES

YES

Share Current State from another REmatrix

ALLOWED

ALLOWED

Share Current State from another REmatrix Player

ALLOWED

ALLOWED

MASTER SECTION EFFECTS

Master Section Effect MOD

PLAY ONLY

FULL ACCESS

Master Section Effect REV

PLAY ONLY

FULL ACCESS

Master Section Effect DELAY

PLAY ONLY

FULL ACCESS

Master Section Effect DRIVE

PLAY ONLY

FULL ACCESS

Master Section Effect EQ

FULL ACCESS

FULL ACCESS

PRESETS

Load REmatrix Presets

YES

YES

Edit REmatrix Presets

ALLOWED PARAMETERS

FULL EDIT

IRs

Import User IRs

NO

YES

Load Additional IR Libraries

YES

YES

IR Extended Panel Parameters

PLAY ONLY

FULL EDIT

REmatrix Global REV TIME

FULL ACCESS

FULL ACCESS

REmatrix Global PRE DELAY

FULL ACCESS

FULL ACCESS

Parameters Automation

ALLOWED PARAMETERS

FULL ACCESS

LIBRARIES DISCOUNT

20% discount on all libraries

NO

YES