RELIVE
Products > LIBRARIES > REmatrix Expansions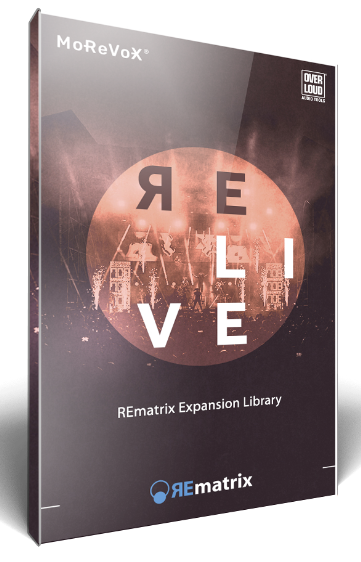 AUDIO DEMO
DRY SAMPLE AT THE HEAD OF EACH EXAMPLE


The first live venues IR library



RELIVE is an IR library of live concert venues, captured during a real live tour
in 24 beautiful Italian locations.
A collection of 120 IRs and 300 presets

RELIVE contains 5 IRs for each one of the 24 locations:

Mono at the center of the FOH
ORTF at the center of the FOH
A/B spaced mix on the side of the FOH
ORTF on the back of the FOH
A/B spaced mix on the back of the FOH

An extensive postproduction

Since the impulses were captured in outdoor venues, we needed to thoroughly and
carefully clean up the recordings in order to extract the purest responses,
while maintaining the essence of each location.



24 Beautiful Italian Locations


In July and August 2018 the Prisoner 709 Caparezza tour stopped in 24 different venues.
Some of them were located in historical Italian squares, other near the seaside or close to
the mountains, each of them giving an unprecedented sound.

The stages were equipped with a dBTechnologies VIO L212 PA System and the IRs have
been captured at the same volume of the night shows.




Sampled by Antonio Porcelli

Developed by Sabino Cannone