Modulated Springs & Plates
Products > LIBRARIES > REmatrix Expansions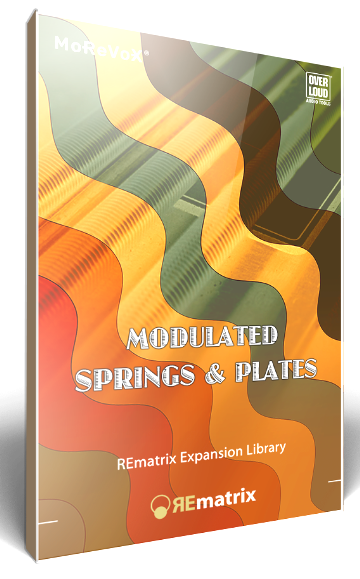 AUDIO DEMO
DRY SAMPLE AT THE HEAD OF EACH EXAMPLE

Electro-Mechanical Reverbs
Pure Vintage Atmosphere
Modulated Springs and Plates has been developed by MoReVoX, by capturing several electro-machanical
vintage reverbs, like the EMT 140, the EMT 250 plates and many Accutronics springs.

IRs have been enriched with modulations, in order to create lush and warm atmosphere with a vintage vibe.
The library is particularly suited for electric pianos, guitars and vocals.
A Collection of 230 IRs &
300 Individual Presets
The presets have been created during real mix studio sessions with a particular focus on vocals, keyboards, synth,
drums as well as acoustic instruments.
The impulses are divided into two banks: one bank made with single IR presets, designed to replicate the original vibe,
and a second multi-layer bank where the presets combine two or more IRs from different units layered together, extending
the tonal palette and creating some really unprecedented reverb spaces.