//OUT NOW//


R-Type in an Impulse Response Library inspired to the sound of the classic hardware reverberation units from 80s & 90s

We have synthesized some of the most significant behaviors of those units to achieve, through the custom MoReVoX IR development process, a collection of reverbs
that can be defined as a "New Classic Sound".
R-Type sounds not only close to the old glories but the custom MoReVoX process drived it to a new level of warm and rich denseness.
The Collection is available in four virtual expansion cards containing 110 IR each: Halls, Plates, Chambers, Ambiences&Special
The Impulse Responses are sorted by length from the shorter to the longer to make the selection easier.Each Card contains also a very small amount of creative IRs,
they are great to spur the creativity.
All the Impulse Responses as ever are been tested in Real Mix Sessions.

R-Type is Unique; If you are looking for some inspiring 80s/90s reverb sounds with an unparalleled modern attitude, this library is right up your street!


Developed by Sabino Cannone
MoReVoX ® 2015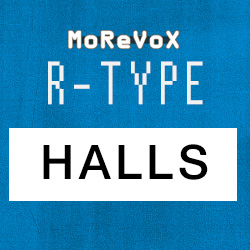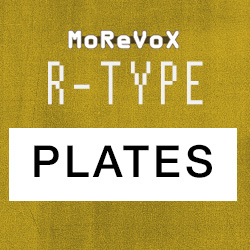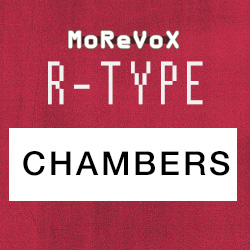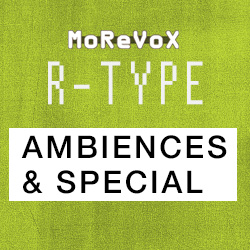 AMB & SPECIAL - IMPULSE LIST

001-Pan.wav
002-Small.wav
003-Small Fat.wav
004-Light.wav
005-Direct.wav
006-Gated.wav
007-Beefy.wav
008-Auditorium.wav
009-Jazz Space.wav
010-Vocal B.wav
011-Recital.wav
012-MicroK.wav
013-Echoy.wav
014-Vocal A.wav
015-Controlled.wav
016-Deep&Short.wav
017-Rude.wav
018-Deep.wav
019-Big Studio.wav
020-Balanced.wav
021-Space V.wav
022-Big Stage.wav
023-Stairwell.wav
024-Small Brite.wav
025-Horns.wav
026-Choir.wav
027-Warehouse.wav
028-Medium Voice.wav
029-Spatial.wav
030-Gate E.wav
031-Small Stage.wav
032-Fine.wav
033-Small Orchestra.wav
034-DarkChoir.wav
035-Mono Hall.wav
036-HugeSpace.wav
037-Go Wide.wav
038-FatMed.wav
039-Small Peace.wav
040-Right Hall.wav
041-Large Ensamble.wav
042-Dynamic.wav
043-Multivocal.wav
044-Spatial Vx.wav
045-Ice.wav
046-Digital.wav
047-Stage.wav
048-Classic.wav
049-PCHall.wav
050-Dark.wav
051-Ensamble.wav
052-Orchestral.wav
053-Slappy.wav
054-Lecture Hall.wav
055-H7.wav
056-LargeStage.wav
057-Simple.wav
058-Acoustic.wav
059-Rich.wav
060-Late Large.wav
061-General.wav
062-Hard&Big.wav
063-JazzHall.wav
064-INV.wav
065-Deep Verb.wav
066-ReflekT.wav
067-Large Space.wav
068-Arena.wav
069-SmoothFresh.wav
070-EkoSpace.wav
071-Real Hall.wav
072-Tube.wav
073-Domes.wav
074-Gorgeous.wav
075-Medium Stage.wav
076-Cold.wav
077-Ymas.wav
078-Large&Wide.wav
079-Large Church.wav
080-K48VX.wav
081-Globs.wav
082-Oriental Pry.wav
083-Great Hall.wav
084-Sizzle.wav
085-Bright Hall.wav
086-Vocal Hall.wav
087-Magic Voice.wav
088-Small Hall.wav
089-LXPark.wav
090-ChoirBoost.wav
091-Rising Hall.wav
092-Vocal Hall 2.wav
093-Thomb.wav
094-Gothic.wav
095-ShadowHall.wav
096-Monstrer.wav
097-Horns Hall.wav
098-FatLarge.wav
099-Wider.wav
100-70Long.wav
101-Large Hall.wav
102-Warm Venue.wav
103-Hangar.wav
104-Small Church.wav
105-Dreamy hall.wav
106-Concert Hall.wav
107-The Tomb.wav
108-Castle.wav
109-Industrial.wav
110-Enormous.wav

001-Very Short.wav
002-DRGat.wav
003-Short Plate.wav
004-Bright small.wav
005-Rhytm.wav
006-Vocal Small.wav
007-Simple.wav
008-Stight.wav
009-P60 A.wav
010-VX Option.wav
011-Plate n16.wav
012-P60 B.wav
013-Tight Plate.wav
014-Bongos.wav
015-DIgital Low.wav
016-Spatial.wav
017-GoToVx.wav
018-Live.wav
019-PL H17.wav
020-Digital Low 2.wav
021-Practice.wav
022-Rack Preset.wav
023-Clear.wav
024-Warm.wav
025-General.wav
026-P70 A.wav
027-Gold.wav
028-Plate B.wav
029-Multi Vox Plate.wav
030-Oldy.wav
031-MultiPlate.wav
032-Vocal S.wav
033-Bright.wav
034-Plate90.wav
035-Rich.wav
036-Sides.wav
037-WideMix.wav
038-Drums.wav
039-RoomPlate.wav
040-Fat Perc.wav
041-Blue.wav
042-Warm Plate.wav
043-Thin Plate.wav
044-RedPlate.wav
045-Guitar.wav
046-SmallPlate.wav
047-Right.wav
048-Dense Plate.wav
049-DR-Kit.wav
050-4Brasses.wav
051-LiveApp.wav
052-Rich & Fat.wav
053-PN104.wav
054-EkoVox.wav
055-DarkRedPlate.wav
056-Cool Plate.wav
057-Past.wav
058-Wide Vox.wav
059-Studio Plate.wav
060-Rich Comp.wav
061-Vocal Long.wav
062-Medium.wav
063-Rock.wav
064-Drum Plate.wav
065-Plax.wav
066-Fat Plate.wav
067-EMT Combo.wav
068-Fat Drums Plate.wav
069-Vintage.wav
070-Microeko.wav
071-Impact.wav
072-Parabolic.wav
073-Drived.wav
074-MediumPlate.wav
075-Hot Plate.wav
076-Gold Plate.wav
077-Rock Plate.wav
078-Smile.wav
079-Dark warm.wav
080-Syncplate.wav
081-Live Plate.wav
082-White.wav
083-NewClassic.wav
084-PlateHall.wav
085-Excited.wav
086-Long Digital.wav
087-Great Plate.wav
088-Big Drums Plate.wav
089-Deep Plate.wav
090-Extra.wav
091-Large Plate.wav
092-EMT EX.wav
093-Bright Vox Plate.wav
094-Warm Vintage.wav
095-Ac Guitar Plate.wav
096-Hybrid.wav
097-Oldy T.wav
098-Dense.wav
099-Brass Plate.wav
100-Magic.wav
101-Paradise.wav
102-LivePlate.wav
103-The One.wav
104-Choir.wav
105-Just Plate.wav
106-FrontPlate.wav
107-Clean Plate.wav
108-Vocal Ensamble.wav
109-Echo.wav
110-Classic Top.wav

001-El Guitar.wav
002-Behind The Wall.wav
003-EL Guitar 2.wav
004-PoK.wav
005-60S Room.wav
006-Medium.wav
007-Regular Space.wav
008-Meeting Room.wav
009-Drum Chamber.wav
010-Old Rack Room.wav
011-Perc Room.wav
012-Tiled.wav
013-Hardwood.wav
014-Snare Chamber A.wav
015-Drums.wav
016-Room S3.wav
017-SmallChamber.wav
018-Live Room.wav
019-Ensamble.wav
020-Slappy Chamber.wav
021-PCs Room A.wav
022-Wide slappy.wav
023-Brite.wav
024-PCs Room B.wav
025-Tight space.wav
026-GT Chamb.wav
027-Small room.wav
028-Big Boom.wav
029-RefleKt.wav
030-Metallic.wav
031-Wavy.wav
032-Nice.wav
033-LiveReflekt.wav
034-Stone.wav
035-Drum Plus.wav
036-Big Room.wav
037-Medium Chamber.wav
038-Fb Room.wav
039-Small.wav
040-P70 Room.wav
041-Gymnasium.wav
042-Instrum.wav
043-Tnk Chamber.wav
044-Sloppy.wav
045-Locker.wav
046-SmallWood.wav
047-Chamber 3.wav
048-Blue Room.wav
049-Vocal.wav
050-Blue Room ex.wav
051-Metallic Room.wav
052-NYC Club.wav
053-RoomyChamb.wav
054-Drum Room 2.wav
055-Real Room.wav
056-Smooth.wav
057-Impact.wav
058-Large.wav
059-MicroEkoRoom.wav
060-Drum cave.wav
061-Big Storage.wav
062-Spatial Room.wav
063-Great.wav
064-Ballrooms.wav
065-Latin.wav
066-Digital Room.wav
067-Straight.wav
068-Large Room.wav
069-Dark Chamber.wav
070-TwoPhase.wav
071-LargeChamber.wav
072-Fat Chamber.wav
073-Wide-D.wav
074-ModRoom.wav
075-Long.wav
076-VocalPlace.wav
077-Percussion Room.wav
078-Inverse.wav
079-SmoothDark.wav
080-FatWide.wav
081-Small Chamber.wav
082-Multi.wav
083-Vocal Space.wav
084-LargeWoodRoom.wav
085-Wide Room.wav
086-Chaos Room.wav
087-Spinning.wav
088-Room P.wav
089-Live Drums.wav
090-Deep.wav
091-Rock Room 2.wav
092-School.wav
093-Plastic Chamber.wav
094-Great Room.wav
095-Metal Chamber.wav
096-Huge Chamber.wav
097-Room Null.wav
098-Vintage.wav
099-Vintage 2.wav
100-Solid.wav
101-Large Space.wav
102-ReSRoom.wav
103-Random.wav
104-LargeDark.wav
105-Simple.wav
106-Big Empty.wav
107-WideAttack.wav
108-OutRoom.wav
109-Silent.wav
110-Paralleles.wav

001-LowB.wav
002-Dead.wav
003-DxWall.wav
004-Closet.wav
005-Out.wav
006-Simple.wav
007-Med Closet.wav
008-Car.wav
009-Very Narrow.wav
010-Booth.wav
011-Large Closet.wav
012-Living.wav
013-Outdoor.wav
014-PA.wav
015-Bedroom.wav
016-Cell.wav
017-CloseChamber.wav
018-Cabin.wav
019-Vocal Booth.wav
020-Speaker.wav
021-Dark Storage.wav
022-Kitchen.wav
023-UltraDry.wav
024-Very Close.wav
025-Digital.wav
026-Short Vocal.wav
027-Short Ambience.wav
028-Out K.wav
029-Inside.wav
030-Small Heavy.wav
031-Pool.wav
032-48A.wav
033-M-eKo.wav
034-LowPA.wav
035-Tucs.wav
036-Annoucer.wav
037-Vocal Ambience.wav
038-CarTwo.wav
039-Bedroom S.wav
040-Sound Stage.wav
041-Plate Ambience.wav
042-Big Living.wav
043-Lighteko.wav
044-Bathroom.wav
045-ChAmb.wav
046-Wild.wav
047-Gated.wav
048-Echo.wav
049-Right.wav
050-Studio Booth.wav
051-Stage.wav
052-Spatial.wav
053-LiveSpat.wav
054-SmallAmb.wav
055-Recon.wav
056-Hard.wav
057-Very Small.wav
058-Short reverse.wav
059-Strong Amb.wav
060-Trash.wav
061-SimpleD.wav
062-Generic.wav
063-Empty Club.wav
064-SmallHit.wav
065-Large Amb.wav
066-Club.wav
067-Big Bathroom.wav
068-Parallel.wav
069-SpaceWalls.wav
070-OutdorSpace.wav
071-FatPerc.wav
072-Paltygate.wav
073-Hallway.wav
074-Small Stage.wav
075-Bounce.wav
076-MonoRoom.wav
077-Close Space.wav
078-Snare gate.wav
079-Inverse.wav
080-More Space.wav
081-RichWide.wav
082-Live Gate.wav
083-NonLinear.wav
084-Square.wav
085-MonoFBK.wav
086-Slap.wav
087-Heavy Walls.wav
088-Explosive.wav
089-Soft.wav
090-ExtraSlap.wav
091-Claus.wav
092-Delay.wav
093-Sound Check.wav
094-Outdoor Echo.wav
095-Hard Vocal.wav
096-Pleasant.wav
097-Block.wav
098-Tale.wav
099-Exposition.wav
100-EkoVenue.wav
101-Prime.wav
102-Riser.wav
103-Huge Mono.wav
104-Large Space.wav
105-MultiEcho.wav
106-HugeFat.wav
107-Sun.wav
108-Random LoQuality.wav
109-Deep.wav
110-David.wav

R-TYPE is available only for AURIA through the inApp Purchase